New mobile home Rideau Toscane 106.4 S – 4 bedrooms – 2023
New
Mobile home 4 bedrooms for 8 to 10 people
If you are a large family or if you like to go on vacation with friends, you may think that the mobile home is not for you. You are wrong! With this spacious 4-bedroom model from mobile home builder Rideau, the number of guests is no longer an issue.
Price 49800 €
Year 2024
Number of bedrooms 4 bedrooms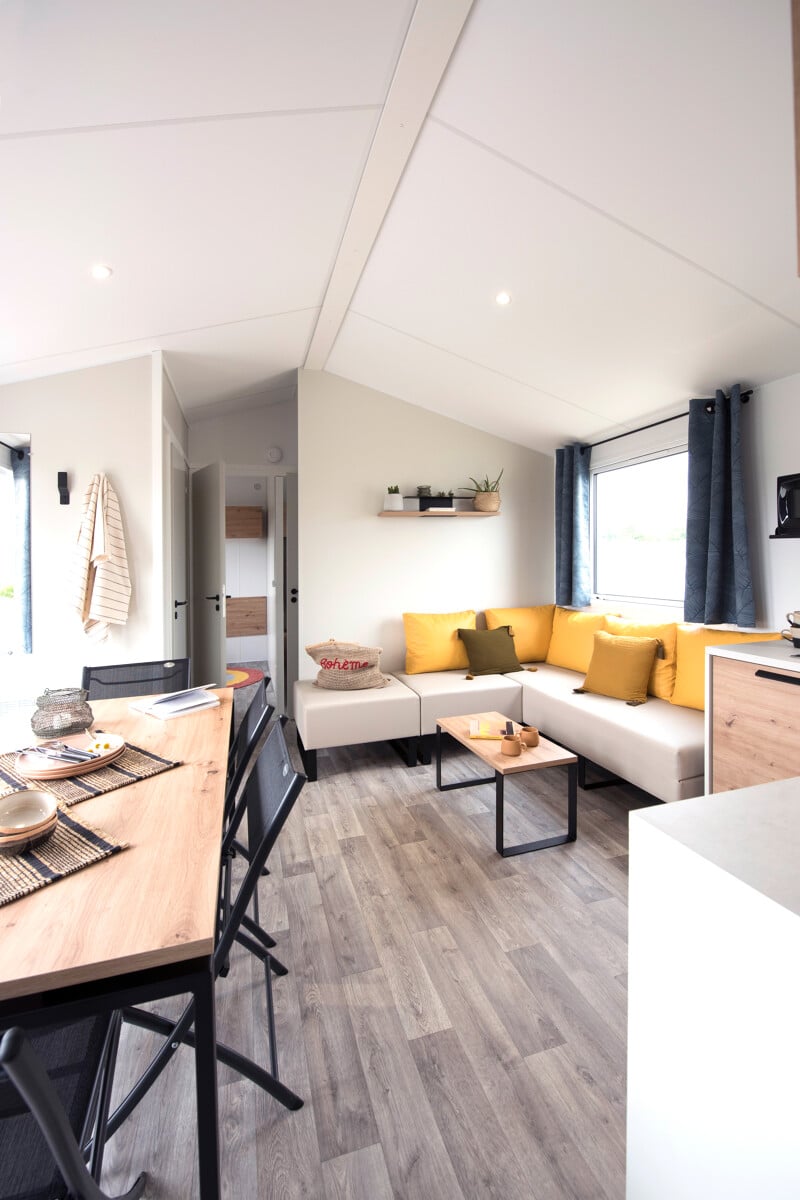 Information
4 bedrooms
10 bedding
40 m²
4 m large
10.65 m long
Double slope roof
Central location
4 seasons insulation
People:

8-10

Interior surface:

40 m²

Room(s):

4

Length – Width:

10.65 m – 4 m

The 1st mobile home 4 bedrooms / 2 bathrooms / 2 WC of the market
Ideal for 2 families or 2 couples of friends with children.
Well-compartmented spaces with XXL volumes.
A large mobile home rare on the market
There are very few models as large as the Tuscan Curtain which sleeps a minimum of eight, with comfortable bedding. The mobile home can accommodate up to 10 people thanks to the sofa in the living room. The rooms are cosy and equipped with functional storage furniture. There are also reading lights, a small closet and blackout curtains to spend a good night.
The Rideau Tuscany model is a high-end mobile home
A fully equipped and functional kitchen
You'll find everything you need in the Tuscan kitchen separate from the living room: high and low cabinets for maximum storage, a 4-burner stove, a microwave, a fridge, a large work surface… everything is configured to prepare delicious meals. A rectangular table and chairs are waiting for you for the tasting. A television can even be installed on the wall.
A living room area for convivial and relaxing moments
All the people will be able to find their place in the mobile home Toscana 8/10 people. The bright, open-plan living room features a coffee table, shelves, convenient USB outlets, adjustable lighting and a sofa with comfortable cushions. Curtains that match the sofa add the finishing touch.
A bay window opens onto the terrace, making it easy to eat outside.
4 rooms with luxurious shower room
The 4 rooms are cosy and well appointed. The bathroom is composed of an XXL shower, a piece of furniture with a basin, a storage unit and a separate toilet.
The Rideau Tuscany 4 bedroom mobile home is well equipped and warm where young and old will feel comfortable.
Interior equipment
Kitchen
Complete set of integrated furniture in melamine decor panels with end-of-travel shock absorbers.
Fully equipped kitchen with 3 drawers, glass credenza, stainless steel sink, black 4 burner gas stove with piezo thermocouple, silver refrigerator/freezer, built-in hood.
Dishwasher space.
Rooms
Ergonomic rooms with bridge furniture, wardrobes, bedside tables and reading lights.
Complete bedding set with slatted base on legs + high resilience polyurethane foam mattress OEKO-TEX with SANITIZED treatment.
Blackout curtains to match the decor.
Stay
Dining set with table 150 cm and folding KARANTA chairs.
Polyvinyl sofa with leatherette finish, matching the decor.
Shelf deco living room.
Mirror.
Coffee table.
Technical column/storage cupboard.
Blackout curtains to match the decor.
Bathroom and WC
Showers 80 x 80 cm.
Sink with mixer tap.
Motorized ventilation.
Opaque sandblasted glass.
Separate toilet.
Technical equipment
Appliances: Class A+ refrigerator and freezer.
Lighting:
Low energy LED interior and exterior lighting as standard.
Indicator light on the exterior lighting.
Plumbing/Sanitary:
Standard foamer, pressure reducer.
Double flush 3/6 L.
Instantaneous hot water with a hydropower generator or electric water heater depending on the model.
Mixer taps at all water points NF design taps certified ACS.
Bathroom equipped with all comfort with basin and shower + motorized ventilation.
Furniture: compliance with EN120 to reduce CO2 emissions.
TV arm + TV pre-connection.
Structural equipment
Mechanically assembled hot-dip galvanized IPE frame.
Hand-assembled 71 mm waterproof floor.
UV-resistant vinyl siding (other possibilities on request).
Double sloped roof in galvanized steel plates (3 possible colors, other please consult us).
Interior sloping roof on the whole length.
Structure of the external walls made of solid wood.
Peripheral partitions in CP decor 5 mm.
Wide interior doors: 63 cm.
Two-tone PVC openings, white inside and grey 7016 plaxed outside, equipped with 4/16/4 insulating double glazing.
Integrated front and rear gutters with 4 downspouts for rainwater.
High resistance vinyl floor covering 0.40 mm and Pureclean NF class A+ treatment.
Discover other mobile homes