New mobile home IRM Super Titania 3 – 3 bedrooms – model 2023
Archived
Looking for a comfortable 3 bedroom mobile home? You are on the right page! We offer you this new mobile home of the brand IRM Super Titania 3 which presents a cosy and functional space, ideal for a family or to receive friends.
Price 33120 €
Year 2023
Number of bedrooms 3 bedrooms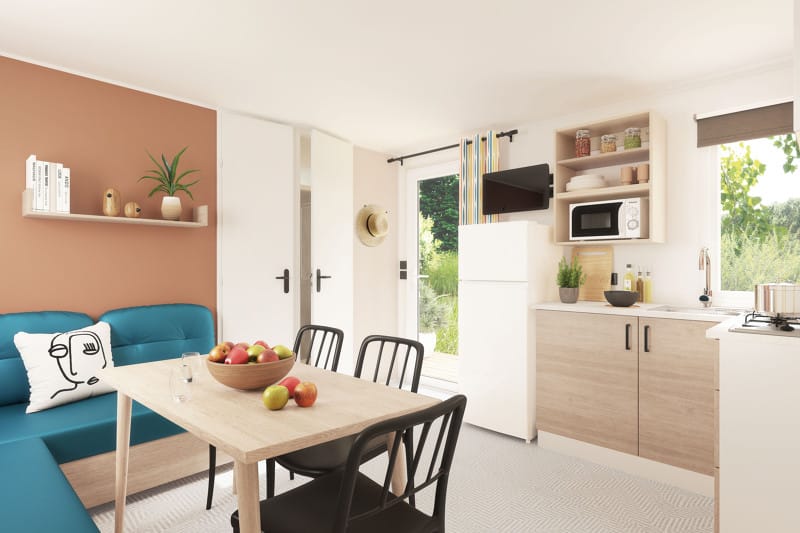 Information
3 bedrooms
6 bedding
31 m²
4 m large
8.1 m long
Single slope roof
Central location
4 seasons insulation
Why buy a new mobile home?
Owning a new mobile home has many advantages. First of all, it is a secure and long-lasting investment with a manufacturer's warranty. In addition, you will not have many maintenance costs or work to do, unlike a second home.
The IRM manufacturer also offers a wide choice of mobile home models at affordable prices that will fit your needs in terms of surface area, number of bedrooms, layout, design and colors, options…
The advantages of buying a new mobile home are numerous:
4 seasons insulation
efficient water heater for energy savings
resistant structure and design
comfortable and flexible interior
18 slats bed base with HR 35 kg/m3 foam mattress to sleep well
well equipped and furnished kitchen
numerous storage spaces, cupboards, closets
Easy Clean bathroom easy to clean
For over 30 years, the French manufacturer IRM has been designing its mobile home models using the latest technological innovations and quality layout options.
How are the rooms in an IRM mobile home?
In this 3 bedroom IRM Super Titania 3 mobile home, the sleeping area is well-proportioned and functional. You will have beds with quality mattresses and box springs, adjustable reading lights with bedside tables, storage furniture and closets and blackout curtains.
How is the bathroom and the toilets in a mobile home?
Mobile home owners are increasingly demanding about the quality of the water room and toilets, and they are right. Camping has become synonymous with freedom but not with discomfort! That's why the mobile home manufacturer IRM has innovated a new Easy Clean technology to facilitate the cleaning of the shower room. The IRM designers also created a modern and pleasant space with a suspended washbasin, an 80 x 80 cm shower tray with an extra-flat threshold, a shower door and frosted glass window for more privacy, a towel rack, an integrated shelf, and a toilet with a 3/6 liter double flush.
Are you interested in buying a cheap and quality mobile home? Do not hesitate to contact our expert in mobile home sales with delivery to the campsite of your choice anywhere in France and Europe.
Features
Number of rooms: 3 rooms
Number of persons: 6 persons
Surface : 28.30m2
Dimensions: L7.89 x l.4.00m
Very large bench in angle spirit meridian
Standard TV arm for large screen
Full equipment level in the kitchen
Numerous storage spaces and closets
"A step ahead for families"
Profitability does not prevent space, quite the contrary! The 3-bedroom layout of the Super Titania 3 is designed for ideal accommodation at an unbeatable price/capacity ratio!
The key points
– The most compact 3 bedroom for small plot
– 6 real flat beds and plenty of storage space
– Best resale product
The kitchen
– Microwave cabinet
– Large capacity casserole dish
– Lacquered metal shelf
– 4-burner gas hob, white
– Refrigerator/freezer class A+, 2 doors 207 L, white
– TV arm
– Roller blind
The stay
– Dining table with fixed wooden legs
– Corner sofa on legs
– 3 black in & out stacking chairs
– Shelf
– Roller blind
The parents' room
– Open storage unit at the head of the bed
– Headboards
– Adjustable reading lights with integrated switch
– 2 removable bedside tables
– Closet
– 18 slats base with raised feet and HR 35 kg/m3 foam mattress
– Blackout curtain
The children's / guests' room
– Open storage unit at the head of the bed
– Round shelf in the front room
– Bedside table
– Suspended storage at the foot of the bed
– 18 slats base with raised feet and HR 35 kg/m3 foam mattress
– Blackout curtain
The shower room and WC
– Easy Clean washroom easy to clean and built to last
– 80 x 80 cm shower tray with silky touch and extra flat threshold
– Frosted glass shower door and window for more privacy
– Hanging basin unit with towel rack and integrated shelf
– Shelves
– WC with double flush 3/6 liters
Discover other mobile homes