New mobile home IRM Cahita Riviera – 1 bedroom – model 2023
Archived
Just look at the pictures to be charmed by this mobile home of the IRM brand!
With its comfortable and cozy space, this mobile home seduces at first sight with its elegant furniture and its well-designed interior with optimized storage.
Price 25472 €
Year 2023
Number of bedrooms 1 bedrooms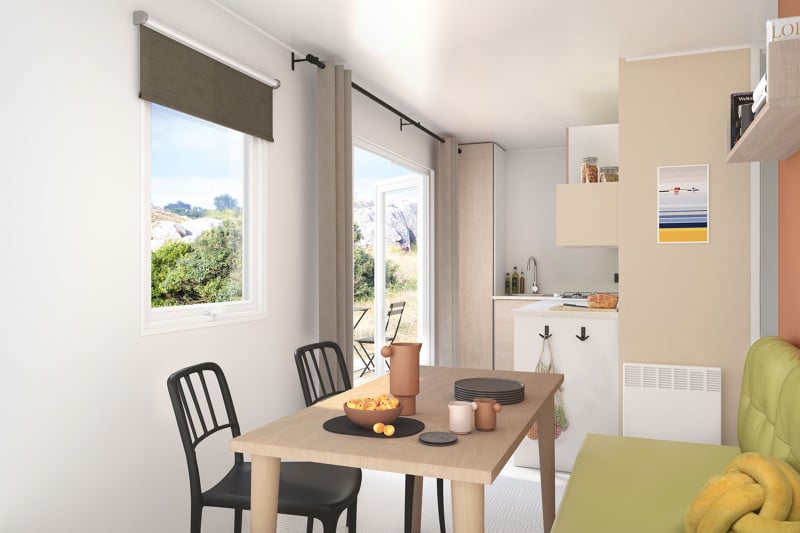 Information
1 bedrooms
4 bedding
17.8 m²
4 m large
5.04 m long
Double slope roof
Central location
4 seasons insulation
Sleeps : 2
Rooms : 1
Surface : 17,8m2
Dimensions: 5,25x4m
Shower room : 1
The great advantage of this new mobile home is its brightness thanks to its double glazed bay window which brings you natural light and opens you a very pleasant space on the outside. The designers of IRM mobile homes have created a Riviera model with a kitchen open to the outside with direct access to the terrace, very practical for passing dishes.
Small mobile home with 4 beds
The Cahita Riviera mobile home has a pleasant bedroom with storage space and an extra sofa bed in the living room for entertaining family or friends. The bedding is comfortable with reading lights and an 18 slat base with raised feet, a HR 35 kg/m3 foam mattress and a blackout curtain to sleep well.
Secure and economical mobile home
The Riviera model is sold with all the standard equipment necessary for its safety and economical energy consumption:
Smoke detector guaranteed for 10 years
100% Led lighting
Main circuit breaker
Convector 1000 W
High and low ventilation
Phthalate-free lino
Flow reducer on sink and basin mixers (71/min)
Table top refrigerator 115L class A+
Hydro power natural draft gas water heater
Sticker to raise awareness of eco-behavior
Well equipped mobile home
It is important to have high performance equipment and facilities when going on a mobile home vacation. That's why the designers of the IRM Cahita Riviera mobile home have thought of everything: furniture and practical storage in the kitchen to prepare good meals.
The Easy Clean washroom is easy to clean and durable. It has a shower tray of 80 x 80 cm, a vanity unit, shelves and a toilet with double flush 3/6 liters
The strong points
Double leaf door
Riviera concept of the summer kitchen with direct access to the terrace
Cocooning lounge
Large bedroom with ample storage space
Standard equipment
Smoke detector guaranteed for 10 years
100% Led lighting
Convector 1000 W
Mattress HR 35 kg/m3 labelled 0EK0-TEX
High and low ventilation
Phthalate-free lino
Main circuit breaker
Antenna socket and TV cabling
Kitchen furniture on legs with PVC skirting
Flow reducer on sink and basin mixers (71/min)
High-end mixers
Hydro power natural draft gas water heater
Sticker to raise awareness of eco-behavior
The kitchen
Microwave cabinet
Large capacity casserole dish
Lacquered metal shelf
2-burner gas hob, white
Table top refrigerator 115L class A+
The parents' room
Open storage unit at the head of the bed
Headboards
Adjustable reading lights with integrated switch
2 removable bedside tables
Large hotel closet
18 slats base with raised feet and HR 35 kg/m3 foam mattress
Blackout curtain
The stay
Dining table with fixed wooden legs
Sofa on legs
Shelf
2 black in & out stacking chairs
TV arm
Roller blind
The shower room and WC
Easy Clean washroom easy to clean and built to last
80 x 80 cm shower tray with silky touch and extra flat threshold
Frosted glass shower door and window for optimal privacy
Hanging basin unit with towel rack and integrated shelf
Shelves
WC with double flush 3/6 liters
Discover other mobile homes