New Mobile Home IRM Jasmin – 2 bedrooms – Parent Suite – 2023
New
Sale new mobile home IRM Jasmin at a price of 47800€.
This IRM 2023 model is much more than a mobile home! It is a real small architect's house, full of charm in a modern style, with two bedrooms and two bathrooms. It is a very well configured mobile home if you wish to rent it to make your purchase profitable during your absence.
Price 49248 €
Year 2024
Number of bedrooms 2 bedrooms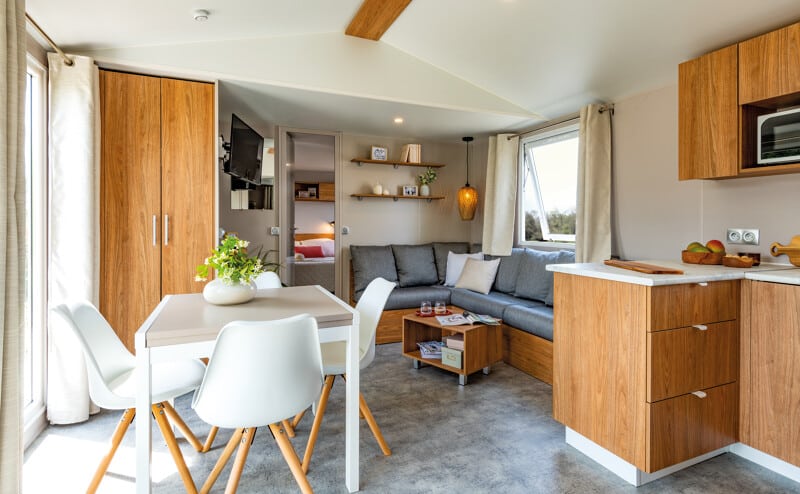 Information
2 bedrooms
38.40 m²
4 m large
10.62 m long
Double slope roof
Central location
Reinforced / Mountain
Ideal mobile home for vacations
As soon as you see it from the outside, you will be won over! A terrace with a French window invites you to enjoy the sunshine.
The living space is made up of a U-shaped kitchen that has nothing to envy to that of a real house. Carefully designed to combine style and functionality, it is equipped with a 4-burner stove, a sink, a refrigerator, a spacious work surface and plenty of practical storage space.
As for the living room, it has been designed for relaxation and the pleasure of being with family or friends. A corner sofa with a wooden base and cushions offers perfect comfort. A television is mounted on the wall and shelves allow you to personalize the decoration. For meals, a rectangular table and 4 chairs are waiting for you.
Mobile home IRM with 2 bedrooms and 2 bathrooms
With its two bedrooms located opposite each other for more privacy, this mobile home is perfect for respecting a little freedom between occupants.
The master suite is equipped with a double bed with a wooden headboard and two bedside tables. As for storage, it's the best: a large dressing room and a small cabinet. Under the window there is a bench with a cushion that invites to rest.
The second bedroom, with two single beds and two bedside tables, will be the one for children or friends, and will have plenty of practical storage and space. Each night space has its own bathroom with a shower, a piece of furniture with a sink and a window for the luminosity.
This Jasmine IRM model looks so much like a home you won't want to leave it when the vacations are over.
Would you like to see the equivalent model in a smaller size? THE IRM CAPUCINE MODEL CORRESPONDS PERFECTLY TO YOUR EXPECTATIONS.
We love it!
– Its beautiful U-shaped kitchen
– Ultra-spacious master suite with private shower room and toilet
– Its numerous storage spaces
Living room great comfort
– Sofa in angle with storage box, integrated convertible bed 130×190 cm. Fabric treated against stains and mites.
– 2 shelves above the sofa.
– Hanging light in the corner of the sofa.
– Rectangular wood coffee table.
– TV arm and shelf underneath.
– Plug + 2 USB ports set.
– Mirror
Separate dining area
– Ergonomic table 80 x 80 cm with integrated extension 160 x 80 cm.
– 4 chairs with wooden base and soft white polyvinyl seat.
– Hydropower water heater in a cabinet at the entrance + broom clips.
– Closet with doors.
– Convector 1000 W.
Equipped kitchen
– Stainless steel 4-burner gas hob with white glass credenza.
– Stainless steel suction hood.
– Fridge-freezer 2 doors 207 L (166 L + 41 L), stainless steel color.
– Pre-equipped for dishwasher.
– Stainless steel sink with designer mixer tap.
– Numerous storage spaces and a large 3-drawer casserole.
– Microwave cabinet.
– Canvas roller blind on window.
Main room
– Direct access to the shower room and private toilets.
– Bed 140 x 190 cm, high resilience foam mattress 35 kg/m3 , OEKO-TEX certified.
– 18-slat bed base with high legs.
– Large protective headboard.
– Bridge furniture at the head of the bed with 2 doors and an open cabinet + 1 storage unit with shelves and closet.
– 2 removable bedsides.
– 2 real linen closets on double doors separated by a storage bench.
– Combistore blackout screen.
Children's / guests' rooms
– 2 beds 80 x190 cm mattress high resilience 35 kg/m3 , labeled OEKO-TEX.
– Large protective headboard.
– 2 removable bedsides.
– Furniture bridge at the head of the bed with sliding door.
– Linen closet 1 door.
– Combistore blackout screen.
Water salts
– 2 bathrooms with great comfort : 80 x 80 cm shower tray with silky touch and extra-flat threshold.
– Vanity unit on legs topped by a shelf with towel rack.
– High storage unit with door.
– Window with frosted courtesy glass for optimal privacy.
– 2 bathrooms with two toilets: one independent and one in the master bedroom.
– Broom Clips in the WC of the master bedroom.
– Washing machine pre-equipment in the WC in option.
Each IRM Habitat model is certified to EN 1647, a European standard requiring more than 180 safety and comfort checkpoints
Discover other mobile homes