New mobile home Trigano NEST 33.2 – 2 bedrooms – 2023
New
User-friendly and clever
The mobile home NEST 33.2 rooms is a family and friendly mobile home. Its interior layout is well thought out, for a fluid circulation in spaces bathed in light where all holidaymakers will feel good.
Very spacious and bright living room, functional kitchen open to the outside with adjoining storeroom, many storage spaces … so many assets that make it an exceptional place for vacations!
Price 37085 €
Year 2024
Number of bedrooms 2 bedrooms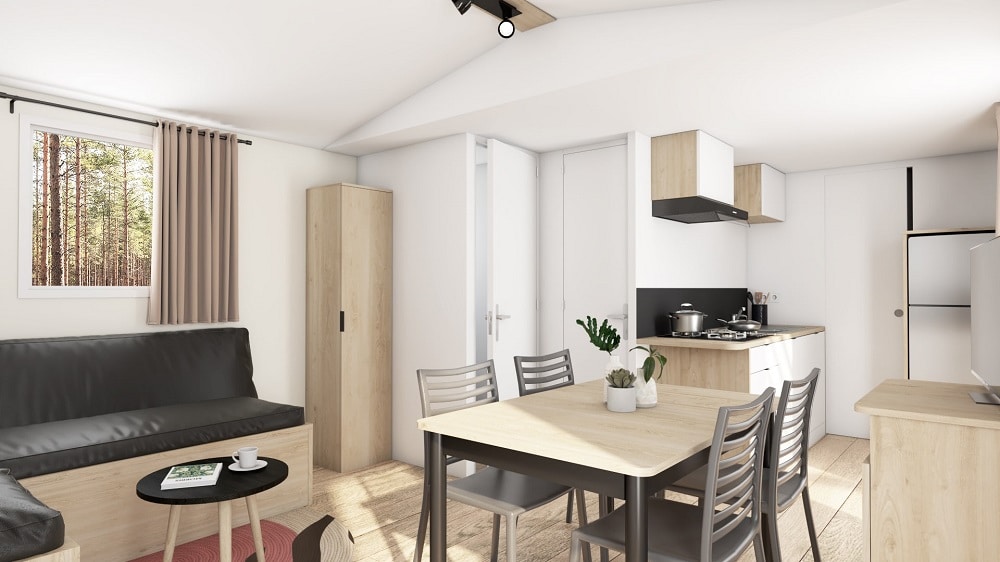 Information
2 bedrooms
4 bedding
33 m²
4 m large
8.5 m long
Double slope roof
Central location
4 seasons insulation
Vintage: 2023
Brand: Résidences Trigano
Model: NEST 33.2
Number of rooms: 2
Dimension: 8.50 x 4.00m
Water heater: Gas
Insulation: 4 seasons
The advantages of the model
Spacious living room
Kitchen open to the outside, to live inside-out
Storeroom with plenty of storage space
Double front door
Kitchen open to the outside
The mobile home NEST 33.2 has a kitchen open to the outside and an adjoining storeroom very practical thanks to its many storage spaces. The two front doors on the facade bring a lot of light. The kitchen invites itself on the terrace to share meals in all conviviality. Whatever the season, it's like being in a summer kitchen, with a direct view of nature!
Cooking, meals, games… a feeling of freedom floats in the air of this mobile home, a real concentrate of happiness!
Living room equipment
Convertible sofa bed 1 bed
Woven blackout curtains
Wooden decor table
100% LED spotlight ramp
TV & USB socket
High-end 1000 W convector
Room facilities
Parents bed 140 x 190
Children's bed 80 x 190
Mattresses Made in France
Woven blackout curtains
Shelves with closet
Headboard with integrated shelf
Space for an umbrella bed
Kitchen equipment
Large refrigerator freezer
Black tempered glass cooktop
Storage unit
Sink with pressure reducing valve
Black protective credenza and firewall
Shock absorbers and drawer brakes
Exterior design
Bi-slope
Sand* cladding
White carpentry
Anthracite ribbed roof
1 exterior wall light
Lacquered aluminum front gutter
TV Pack
Bathroom equipment
Shower 100 x 80
Shower tray with flat tray
Mirror with shelf
Washbasin furniture
Storage shelves
Coat hooks and towel rails
Technical equipment
Undercarriage drawbar storage
Low-maintenance, weather- and UV-resistant cladding
Internal water circuit PER crimped
Wall with washable upholstery, easy maintenance
Double glazed insulating glass
High thermal performance insulation and acoustic protection
Smoke detector
Interior communication doors with quality wood frame
Lino for heavy traffic & easy maintenance
Hydropower propane instantaneous bath heater
Propane cylinder circuit
Reinforced insulation pack
Reinforced insulation, for better resistance to climatic variations. Ideal for cooler regions or to extend the rental on the wings of the season.
Water circuit insulation
Floor insulation
Roof insulation
Wall-mounted water heaters
VMC & aerator
Deco pack
Opt for the deco pack, a design & contemporary set for a modern atmosphere.
Vinyl carpet
Deco box
Mirror
Additional seat
Table base
Discover other mobile homes