New mobile home Rideau Bergame 81.2 TI – 2 bedrooms – 2023
New
TO TAKE FULL ADVANTAGE OF THE SURROUNDING NATURE AND ENVIRONMENT
The bergame 81.2 TI is THE panoramic model par excellence. Equipped with a large integrated and covered terrace of 9 m², the bergame 81.2 TI extends the living room on the outside to take full advantage of nature and the panorama. It is possible to choose a wood material for the cladding of the bergame 81.2 TI model. The must of integration is then at the rendezvous.
Price 36700 €
Year 2024
Number of bedrooms 2 bedrooms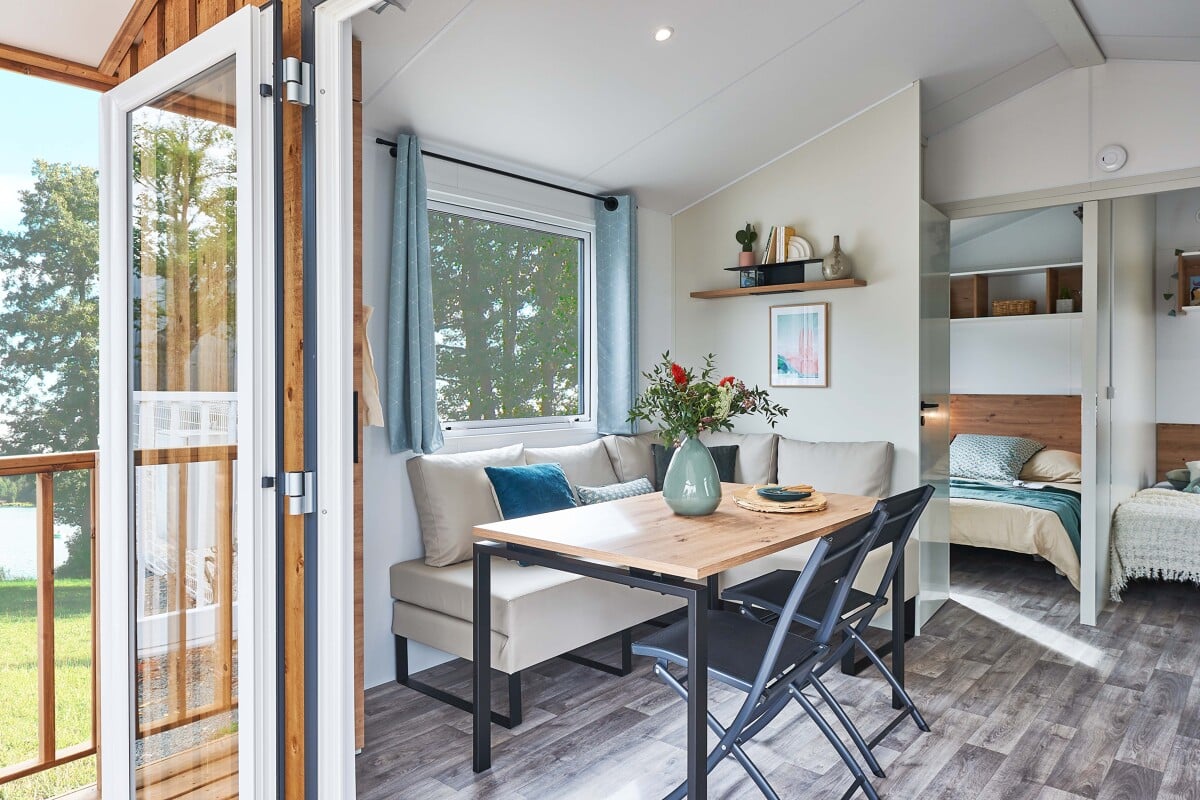 Information
2 bedrooms
6 bedding
23 m²
4 m large
8.25 m long
Double slope roof
Panoramic layout
4 seasons insulation
People:

4-6

Interior surface:

23 m²

Room(s):

2

Length – Width:

8.25 m – 4 m

A panoramic model with an integrated and covered terrace of 9 m² that extends the living room to the outside.
The best of Rideau's comfort in a compact 23 m² area.
Ideal for narrow plots, frees up parking space.
The bergame 81.2 TI offers the best of Rideau's mobile homes in a compact 23 sqm. There is a beautiful corner kitchen, a dining room with a large and friendly sofa, 2 bedrooms equipped with storage space and a bathroom equipped with a basin, storage space, towel racks and a 80 x 80 cm shower.
Interior equipment
Kitchen
Complete set of integrated furniture in melamine decor panels with end-of-travel shock absorbers.
Equipped kitchen with 3 drawers, glass credenza, stainless steel sink 1 bowl, gas hob 4 burners black with piezzo thermocouple, refrigerator table top white, hood embedded.
Dishwasher space.
Rooms
Ergonomic rooms with bridge furniture, wardrobes, bedside tables and reading lights.
Complete bedding set with slatted base on legs + high resilience polyurethane foam mattress OEKO-TEX with SANITIZED treatment.
Blackout curtains to match the decor.
Stay
Dining set with table 130 cm and folding KARANTA chairs.
Polyvinyl sofa with textile finish, matching the decor.
Shelf decorating living room.
Mirror.
Technical column/storage cupboard.
Blackout curtains to match the decor.
Bathroom and WC
Shower 80×80 cm.
Sink with mixer tap.
Motorized ventilation.
Opaque sandblasted glass.
Separate toilet.
Technical equipment
Appliances: Class A+ refrigerator and freezer.
Lighting:
Low energy LED interior and exterior lighting as standard.
Indicator light on the exterior lighting.
Plumbing/Sanitary:
Standard foamer, pressure reducer.
Double flush 3/6 L.
Instantaneous hot water with a hydropower generator or electric water heater depending on the model.
Mixer taps at all water points NF design taps certified ACS.
Bathroom equipped with all comfort with basin and shower + motorized ventilation.
Furniture: compliance with EN120 to reduce CO2 emissions.
TV arm + TV pre-connection.
Structural equipment
Mechanically assembled hot-dip galvanized IPE frame.
Hand-assembled 71 mm waterproof floor.
UV-resistant vinyl siding (other possibilities on request).
Double sloped roof in galvanized steel plates (3 possible colors, other please consult us).
Interior sloping roof on the whole length.
Structure of the external walls made of solid wood.
Peripheral partitions in CP decor 5 mm.
Wide interior doors: 63 cm.
Two-tone PVC openings, white inside and grey 7016 plaxed outside, equipped with 4/16/4 insulating double glazing.
Integrated front and rear gutters with 4 downspouts for rainwater.
High resistance vinyl floor covering 0.40 mm and Pureclean NF class A+ treatment
Discover other mobile homes