New mobile home Louisiane Sunshine Savanah – 2 bedrooms – 2023
New
When you look at the interior of the Louisiane Savanah model, you don't see a mobile home but a small apartment! It offers you a perfect comfort and standing with a well insulated structure summer/winter.
Why buy a mobile home? First of all, having your own mobile home means freedom for your vacations. Once you have found the location of the campsite of your choice, by the sea, in the countryside or in the mountains.
By becoming the owner of a comfortable mobile home, you will not have to plan any vacation rentals and you will be able to leave whenever you want in a functional and well-equipped residence.
Price 36500 €
Year 2024
Number of bedrooms 2 bedrooms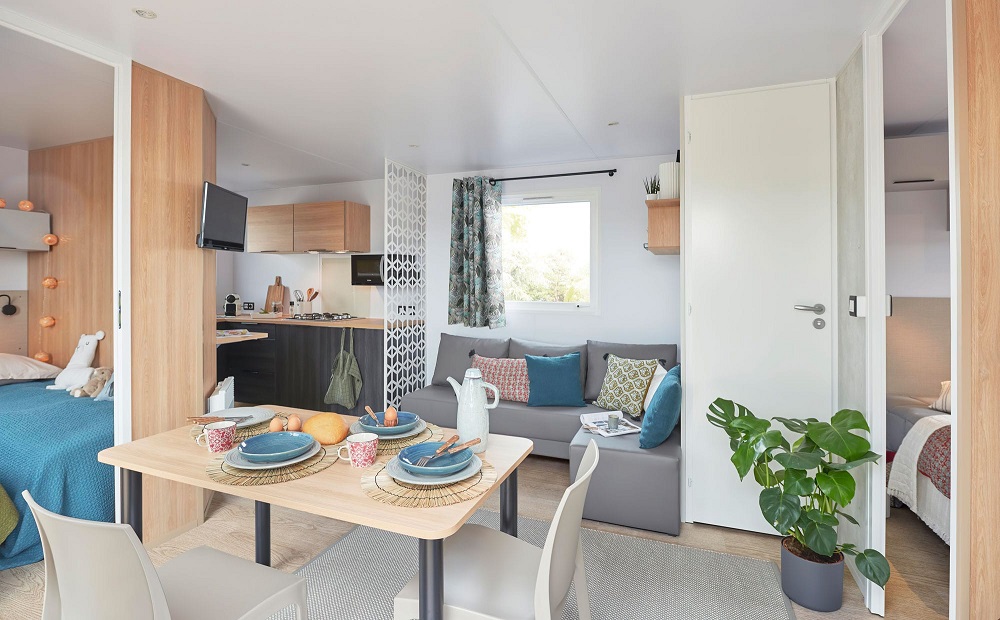 Information
2 bedrooms
6 bedding
30 m²
4 m large
8.2 m long
Double slope roof
Central location
4 seasons insulation
Mobile residence with comfortable and cosy rooms
The originality of this new mobile-home is the kitchen shifted towards the back which will seduce you without any doubt. This layout allows for a more airy space and better separates the kitchen from the living room. As for the equipment, nothing is missing: 4-burner stove, stainless steel sink, retractable work surface, smoke detector, storage space. The living room is also fully equipped for moments of conviviality and relaxation.
As for sleeping arrangements, you have two bedrooms with quality bedding, storage space, adjustable reading lights… You can accommodate 6 people thanks to the sofa bed in the living room. A shower cubicle, a washbasin cabinet and a separate suspended toilet make up the toilet area.
In the "holiday privilege" range, other equipment can be added: roller shutters, towel dryer, VMC, microwave, dishwasher….
Advice for choosing a campsite
Are you ready to invest in a new mobile home?
How to find the ideal place to set up your mobile home?
The answer is simple: choose a place where you feel good and a campsite that offers the services you want: swimming pool, shops, activities for children, by the sea or in the mountains…
We offer you plots of land everywhere in France to install your new or used mobile home. Offbeat kitchen
A staggered layout of the kitchen that offers volume and space. A special feature of this model is the entrance that opens onto the living room and a spacious and friendly lounge. From the large exterior windows in the front, you can see the large, equipped kitchen at the back of the model. An original and airy layout that gives back to each space its primary vocation.
The most
The kitchen is offset to the rear and offers volume and space.
Original and airy layout that gives back to each space its original vocation.
Spacious and friendly living room.
In the living room
Convector 1000W
4 chairs in and out
Integrated led spotlights
Flat screen TV stand
Decorative separation
In the kitchen
Stainless steel sink with drainer and mixer tap
Stainless steel 4 burner gas cooktop
Carbon filter hood with integrated lighting
Cutlery tray
Retractable work surface
Blind on kitchen window
Smoke detector
In the rooms
2 beds for children 80 x 190 cm
2 adjustable reading lights in the rooms
High furniture in the rooms
Closet and shelves in the parents' bedroom
Closet in the children's room
Mirror for parents room
In the shower room and WC
Shower enclosure 100 x 80 cm safety glass door
Raised storage unit with basin
Shelf
Coat hooks
2-sided printed glass on WC and bathroom windows
Independent suspended toilet
In the vacation range
Sofa with extra bed
Removable footstool
Table with black steel base
Refrigerator table top
Bathroom mirror
Electric wait for convectors in bedrooms and bathrooms
Bed for parents 140 x 190 cm
In the vacation privilege range
Corner sofa with extra bed
Nesting coffee table
Lunch table with extension
Living room ceiling suspension
Built-in refrigerator
Microwave
Electric oven or dishwasher
Convectors in the rooms
Towel dryer in the bathroom
Roller shutters in the rooms
Roller blinds for bathrooms and toilets
Bed for parents 160 x 200 cm with Technilat mattress, Belle Literie label
VMC
Discover other mobile homes