New mobile home Louisiane Sunshine Taos F5 – 2 bedrooms – 2023
New
The Sunshine Taos F5 mobile home from Louisiane has everything you need to seduce you: large, comfortable rooms, well laid out and elegant, functional furniture. You will enjoy your vacations with family or friends, by the sea or in the countryside.
Everything has been carefully thought out by Louisiane's designers: each square meter is optimized and the furniture has been carefully chosen for its design and practicality.
Let's continue the visit…
Price 69500 €
Year 2024
Number of bedrooms 2 bedrooms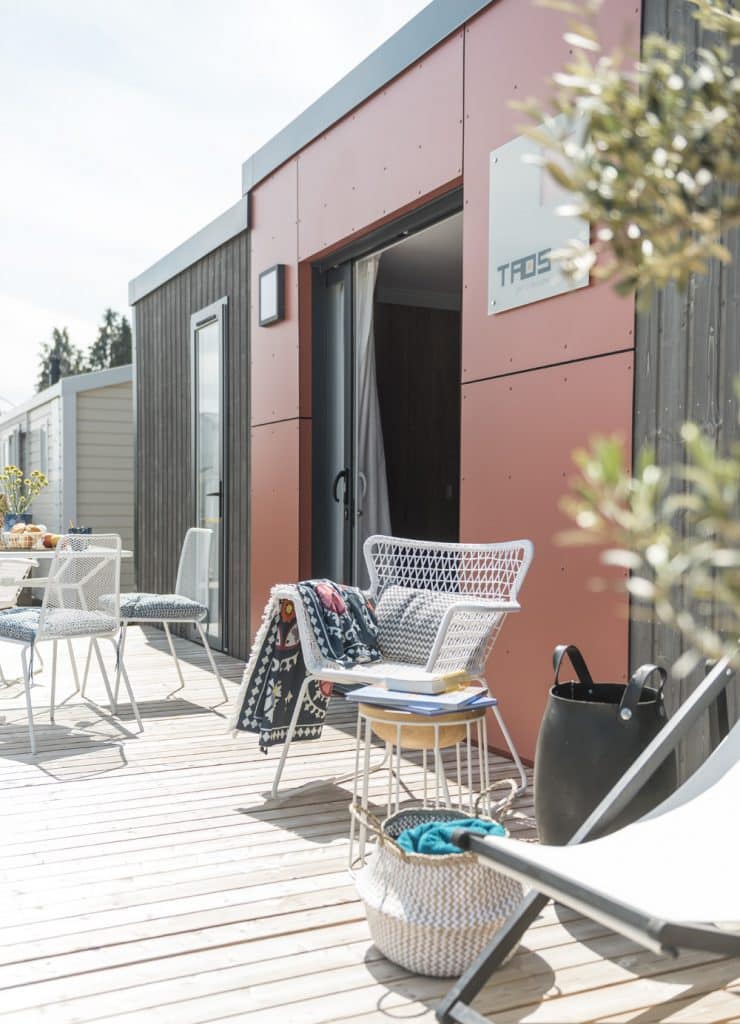 Information
2 bedrooms
6 bedding
40 m²
4.3 m large
10.1 m long
Single slope roof
Central location
4 seasons insulation
A 2 bedroom mobile home with 2 bathrooms
A large and bright living room open to the terrace
For the living room, we bet on the contrast of the anthracite on the wall with the light gray of the sofa bed. For dining, a white table sits in front of a built-in bench and chairs complete the look. This seating system that you can move around the patio invites conviviality while being practical.
In the kitchen, you will find a complete equipment: a worktop, a 4-burner stove, a sink and many practical storage spaces. For the design, the combination of white and light wood gives a touch of modernity and brightness.
A master bedroom with shower room and toilet
For the master bedroom, the decor harmoniously blends gray and wood to create a simple and modern room. The TECHNILAT mattress with the Belle Literie label is ultra-comfortable, so you'll spend excellent nights on it. On the equipment side, there is a double bed, two reading lights, a closet…
The children's room with shower room and toilet
The children's room or guest room is located on the opposite side for more privacy. The room includes two bunk beds, storage and reading lights. Blackout curtains give the final touch to the whole while serving as insulation against the sun or cold.
Two bathrooms and a toilet
They are each equipped with a shower with mixer tap, a piece of furniture with basin and storage. The toilets are suspended to facilitate the cleaning of the floor.
Rectangular windows in each room provide plenty of light. The adjoining wooden terrace allows you to take advantage of the summer evenings to enjoy your meals outside. The Louisiana Sunshine Taos F5 mobile home is therefore perfect for a family of 6 people who want to spend a great outdoor vacation.
The most
Large living room
Kitchen full of ideas with its integrated bench and its numerous storage spaces
Master suite with direct access to the terrace
Very spacious children's room with 3 beds and an office area
In the living room
Sofa with extra bed and decorative cushions
Swivel chair and footstool
Fifth wheel
Swivel totem with mirror, flat screen TV support and RGB led lighting
Broom cupboard
Dining table with laminate top
5 indoor and outdoor chairs and 1 folding chair
Blackout curtain on the bay
Duo blind and screen on the window
Adjustable wall lights
Led ceiling spotlight
Convector 1500W
In the kitchen
Stainless steel 4 burner gas cooktop
Telescopic drawer hood
2-door refrigerator
Microwave grill on shelf
Electric oven
Waiting for dishwasher or washing machine
Stainless steel sink with drainer and mixer tap
Smoke detector
Security glass credenzas
Electrical outlets
Casserolier with cutlery tray
Blackout blind on the fixed bay
Led strip under the high furniture
VMC
In the master suite
Raised bed 160 x 200 cm with TECHNILAT mattress label Belle Literie
Bedside cabinets, closet and linen closet
Convector 1000W
Mirror
Blackout curtain on the door window
Headboard USB ports and outlets
Adjustable reading lights and led headboard
Led ceiling lights
Claustra between the bedroom and the bathroom
Shower cubicle 120 x 90 cm
Furniture with basin and mixer tap
Backlit mirror
Coat hooks
Suspended toilet
WC window with double-sided frosted glass and roller blind
In the hallway, the bedroom and the children's bathroom
2 raised beds of 80 x 190 cm
1 trundle bed of 70 x 190 cm
TECHNILAT mattress label Belle Literie
Office set
Bedside
Closet cabinet
Duo blind and screen in the bedroom
Plug and USB port at the head of the bed and desk
Adjustable reading lights and led headboard
Led ceiling lights
Convectors 1000W bedroom and 500W bathroom
Shower cubicle 90 x 80 cm
Furniture with basin and mixer tap
Backlit mirror
Coat hooks
Suspended toilet
WC window with double-sided frosted glass and roller blind
Discover other mobile homes