New mobile home IRM Loggia 3 – 3 bedrooms – Year 2023
Archived
It is ideal for enjoying indoor-outdoor living thanks to its integrated covered terrace extended by a large extension. The Loggia 3 lets in a lot of light in the fully equipped and well thought out kitchen.
Price 38208 €
Year 2023
Number of bedrooms 3 bedrooms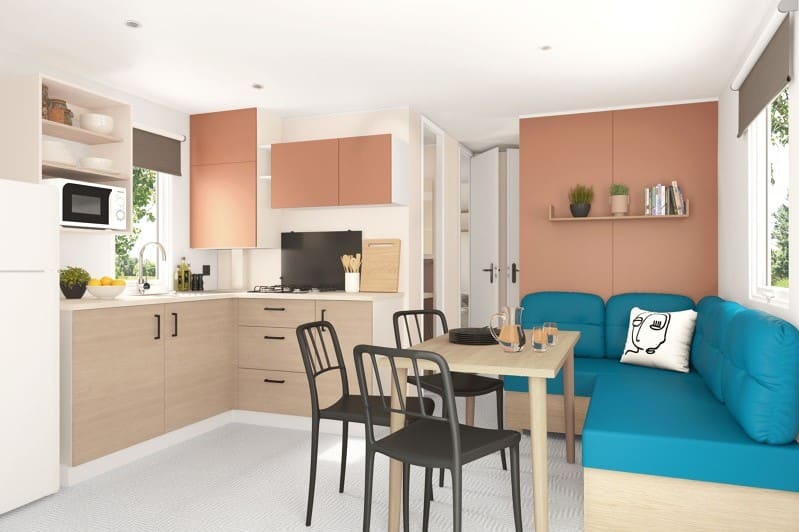 Information
3 bedrooms
6 bedding
36 m²
4 m large
9.10 m long
Double slope roof
Central location
4 seasons insulation
Features
Number of rooms: 3 rooms
Number of persons: 6 persons
Surface : 27.60m2 + 8.40m2 of terrace
Dimensions: L9.10 x l.4.00m
Very cozy living room with its large corner bench
Fully equipped kitchen with plenty of storage space
It exceeds your expectations!
An XXL exterior with a covered area that extends the lines of a furnished living room and a large corner sofa.
The key points
Large terrace extension
4 beds in 80 cm width – 1 double bed
Insulated children's rooms thanks to a large clearance
Standard equipment
Smoke detector guaranteed for 10 years
100% Led lighting
Convector 1000 W
Mattress HR 35 kg/m3 labelled 0EK0-TEX
High and low ventilation
Phthalate-free lino
Main circuit breaker
Antenna socket and TV cabling
Kitchen furniture on legs with PVC skirting
Flow reducer on sink and basin mixers (71/min)
High-end mixers
Hydro power natural draft gas water heater
Sticker to raise awareness of eco-behavior
The kitchen
Microwave cabinet
TV arm
Large capacity casserole dish
4-burner gas hob, white
Refrigerator/freezer class A+, 2 doors 207 L, white
Roller blind
The stay
Dining table with fixed wooden legs
3 black stacking in & out chairs
Corner sofa on legs
Shelf
Roller blind
The parents' room
Open storage unit at the head of the bed with integrated closet
Headboards
Adjustable reading lights with integrated switch
2 removable bedside tables
18 slats base with raised feet and HR 35 kg/m3 foam mattress
Blackout curtain
The children's / guests' rooms
Open storage unit at the head of the bed
Round shelf
Bedside table
Suspended storage at the foot of the bed
18 slats base with raised feet and HR 35 kg/m3 foam mattress
Blackout curtain
The shower room and WC
Easy Clean washroom easy to clean and built to last
80 x 80 cm shower tray with silky touch and extra flat threshold
Frosted glass shower door and window for more privacy
Hanging basin unit with towel rack and integrated shelf
Shelf
WC with double flush 3/6 liters
Discover other mobile homes